40 years of Chinese tea processing
---
---
In recent years, with the continuous application of high and new technologies in tea processing, the level of mechanization and automation of tea processing in China has improved significantly compared with the beginning of this century. New technologies and processes are constantly emerging, and new tea products are more abundant and diversified.
I. Research progress on key common technologies for tea processing

New technology for spreading and withering
(

1) New rolling technology
  The basic processing of green tea is: fresh leaves → killing green → rolling → drying, in the 1980s, the placement was not used as a necessary process. Numerous studies in recent years have shown that spreading is beneficial for reducing the bitterness of tea soup and enhancing the refreshing taste of tea soup. Therefore, it has been used as a necessary process for the initial production of tea and is widely used in the production of various types of green and yellow tea. When the fresh leaves are spread to a moisture content of 68% to 70%, better tea quality can be obtained. In order to solve the problems of traditional indoor paving with high labor intensity, occupying a large production area, and difficult to control environmental factors, new devices such as fresh leaf booth cooling storage tanks, automated paving storage machines, and air handling unit booths have been successfully developed. Put into production.
(2) New withering technology
  Withering is the first process of black tea, oolong tea, and white tea. Different teas wither to different degrees. White tea is the heaviest, black tea is the second, and oolong tea is the lightest. Traditional withering methods include sunlight withering, natural indoor withering, withering, and withering. They all have the disadvantages of high labor intensity and poor controllability. For this reason, shading withering, artificial light withering, facility multiple withering, artificial temperature and humidity withering, and chain plate A series of new devices such as withering have come out one after another. Light-controlled withering overcomes the disadvantages of sunlight withering and the uncontrollable light intensity and light intensity. Artificial temperature and humidity control have solved the uncontrollability of natural withering to environmental parameters. Chain-type withering through temperature and humidity Regulation and automatic turning and mixing have basically realized the automation and continuity of withering operations. In addition, new types of withering technologies such as artificial light control and withering technologies have been studied and widely used. The test results showed that the quality of samples withered by ultraviolet and infrared light was better than that of sunlight. The damage rate of frozen withered leaves increased significantly, the fermentation time was significantly shortened, and theaflavin and thearubin contents in the leaves increased significantly.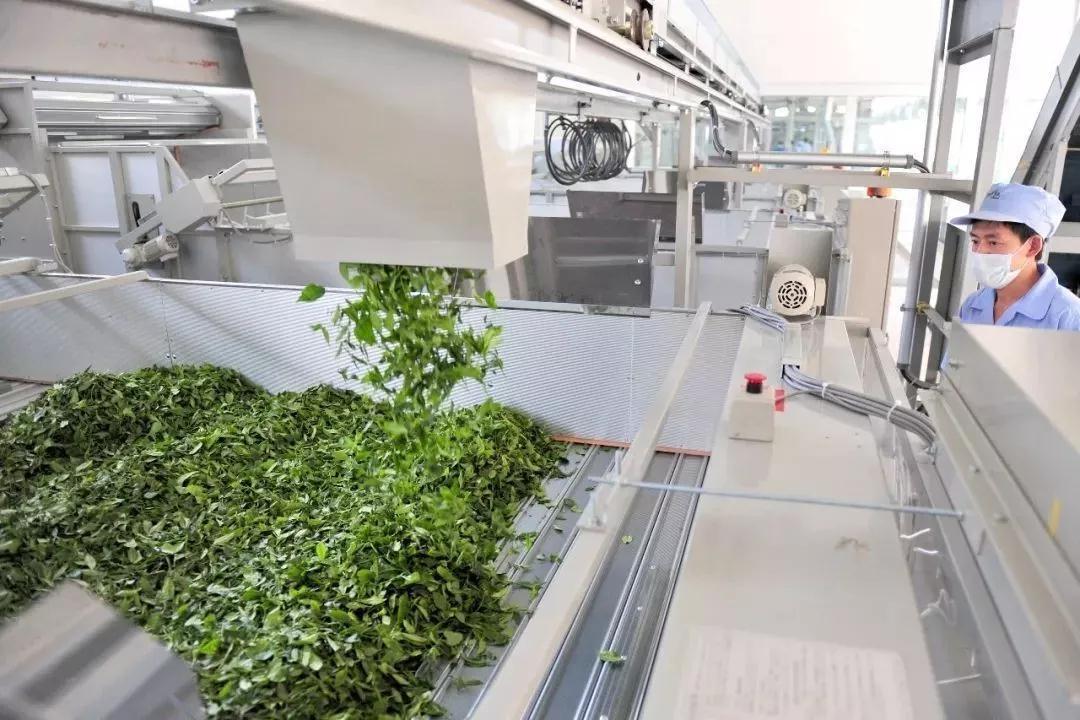 Automatic withering process of black tea production line
Killing green is the key process for processing green tea, oolong tea, yellow tea and black tea. Traditional green killing equipment includes pot-type green killing, roller green killing, etc. The heat sources are firewood, coal, gas, electricity, etc. Due to the traditional green killing equipment, there are problems such as uneven green killing, low thermal efficiency, large temperature fluctuations, and poor thermal stability. , Steam heating, electromagnetic heating and other new heat sources, killing equipment, significantly improve the thermal efficiency of the equipment, rapid temperature rise and parameter controllability.
(1) Electromagnetic internal heat killing
  The electromagnetic internal heat killing method mainly uses the principle of magnetic field induction eddy current to make the magnetically conductive object generate heat by itself, so that the heat energy is consumed as much as possible in the drum. The principle of "high temperature kills blue, high first and then low" is the first three-stage blue kill temperature control. At present, the technology has achieved industrial application.
(2) Far infrared-microwave combination
  In order to overcome the shortcomings of low aroma of tea made by microwave and steam killing technology, far infrared technology has been applied. Far-infrared rays enter the mesophyll tissue in the form of rays, so that the leaves are heated uniformly inside and outside, greening is efficient, energy-saving, good continuity, the product aroma is high, and high temperature burst points and scorch edges do not occur. The technology is currently in the pilot phase of a laboratory.
(3) Steam-hot air combination to kill green
  This technology combines the characteristics of strong penetrating power and short time consumption of steam killing green, and the advantages of hot air killing green products. The tea color is green and fresh, the aroma is high, and the taste is mellow. In addition, the rain leaves can be improved by The hot air temperature controls the moisture content of the killing leaves to reach an appropriate level, ensuring that the killing leaves are soft, tender green, fresh in color, and free of coke buds or grass gas.
New technology for shaping (rolling)
(

1) New rolling technology
  The traditional twisting machine requires manual leaf-up and manual pressure, and cannot be continuous. The PLC-controlled automatic tea-twisting unit was successfully developed. It realized the cooperative linkage, automatic loading, automatic weighing and automatic distribution of multiple twisting machines, and truly achieved the continuous and automatic operation of the rolling process.
(2) New technology for shaping
  Shaping mechanization is the key progress in shape of specialty teas (such as flat tea, needle tea, etc.). In 1998, the first multi-functional machine in Xuancheng, Anhui was successfully developed. It integrates killing, slicing, shaping, and initial drying, replacing traditional manual shaping. In 2002, it invented a special single-pot flat-shaped tea frying machine. The appearance and color of the produced tea is obviously better; since 2006, more advanced equipment such as multi-pot type and continuous automatic type have been developed. Nanjing Yuhua Tea, Huangshan Maofeng and other needle bud-shaped tea sliver looms and kneading machines have gradually realized continuous operation. The application of new technologies such as tilted sliver angle, rolling guide technology, high-speed cylinder drive, etc. Technology is further improved. The granule-shaped oolong tea forming equipment has also been developed from a single-type kneading machine-a speed charter and a flat-type kneading machine.
New fermentation technology
(1) New fermentation technology
  The traditional indoor natural fermentation method cannot adjust the parameters such as the temperature and humidity of the environment. The quality of the tea produced is unstable and manual leaf turning is required, which is labor intensive. For this reason, the newly-developed new fermentation equipment such as a drum continuous fermentation machine and a fermentation tower realize the automatic turning of the fermentation leaves, which reduces the labor intensity. The control of parameters and the realization of continuous processing have been applied in large and medium-sized tea production enterprises. In addition, new technologies such as electronic nose technology, redox potential technology, and charge-coupled (CCD) color detection technology are also used to quickly judge the appropriateness of black tea fermentation.
(2) New technology
  The environmental parameters of traditional indoor natural pile technology are uncontrollable, and manual turning and mixing are used, which is labor intensive. To this end, a series of new pile technologies have been developed. The Pu'er tea ore pile turning machine basically realizes the functions of tumbling, shovel, conveying, and deblocking in the tumbling process, which meets the requirements of ore pile operation for timely and efficient mechanization of the tumbling operation; the automatic detection and The control system can collect, store and automatically control the temperature, humidity, pH and other related parameters during the fermentation of Pu'er tea, increasing the stability of the quality of Pu'er tea fermentation in each batch.

  Making green is the most critical process of oolong tea quality formation, which is performed by alternating combination of shaking green and spreading cool. Air conditioning making green is currently the most widely used and best-performing green making process in production, and has formed a more systematic temperature and humidity light regulation technology, which makes oolong tea processing free of weather constraints and greatly improves production efficiency; Wuyi Rock Tea makes A series of new equipment, such as the intelligent control system for vibration, and the vibration-making equipment that integrates vibration-shaking and environmental-control, has also been successfully developed.



  Drying is the last process of various teas. In addition to removing moisture to achieve sufficient dryness and storage, it also plays an important role in the formation of tea color and flavor. In recent years, microwave technology, far-infrared technology, low-temperature vacuum technology, etc. have gradually been used in tea drying. Widely used in incense. Microwave drying has green and uniform tea color. Far-infrared drying can effectively improve the aroma of green tea. The color and taste are also improved. The production efficiency is significantly improved and suitable for continuous processing. The drying efficiency and aroma flavor of the low-temperature vacuum drying technology are obvious. improve. In addition, research on new energy combined drying technologies such as electromagnetic drying and infrared coupling drying has also begun.


Ⅱ、Research progress on six new tea products and new processing equipment
New green tea products and new processing equipment

  In recent years, with the tea consumer market and industrial demand as the guide, the green tea process has been incorporated into the green tea spreading process to produce floral green tea. Energy-saving equipment such as electromagnetic internal heat killing green, microwave-far infrared killing green have been widely used; a series of famous green tea processing machinery such as shapers, fine kneading machines, long-plate longjing tea frying machines have been rapidly developed and promoted. The operation of green tea production lines is becoming more and more extensive. The needle bud-shaped, flat-shaped famous green teas and bulk stir-fried green teas have been cleaned and continuously processed to varying degrees, and some processes can be fully controlled. It is widely promoted and applied in Hubei and other places.


New black tea products and new processing equipment
New varieties, new technologies and new equipment are constantly applied to black tea processing. Oolong tea varieties such as Jinguanyin, Jinxuan, and Huangguanyin, as well as processing techniques such as tanning and making green, are used to make floral and high-flavor black teas Kneading machine, Qu mill, flat tea frying machine and other equipment are used to process flat black tea, curled black tea, etc .; light compensation continuous wither, low oxygen cold rolling equipment, visual continuous fermentation machine and a batch of controllable degree Gao's new equipment is used to build modern black tea production lines. Strip-shaped and needle-shaped black tea automatic cleaning production lines have been widely used in production.
Oolong tea new products and new processing equipment

  Developed automatic control of water sieve shaker, vibration shaker, intelligent green machine, etc. The productivity and product stability of the single machine have been greatly improved; microwave drying, far-infrared drying, tea color sorting stem picking machine, etc. The equipment is also applied to oolong tea production. Oolong tea preliminary production automated production equipment, using hot and cold air drying, infrared cyan, and combined with hot air microwave killing device, automatic molding device and automatic drying device, to achieve the entire process of oolong tea production automation and continuous production.


New black tea products and new processing equipment

  Traditional black tea processing has high labor intensity, poor process controllability, long production cycle, and the flavor quality of finished tea is extremely unstable. New facilities such as temperature and humidity automatic monitoring and early warning system, Pu'er tea fermentation automatic detection and control system are used for black tea processing, but these studies are only in their infancy, and they are suitable for mechanized, clean, large-scale large-scale intelligent production control systems To be developed.

New white tea products and new processing equipment
Because the traditional white tea strips are loose, there are many inconveniences in packaging, storage, and transportation. New products such as white tea cakes and white tea bricks have been developed. In order to improve the white tea withering process and mitigate the impact of climatic conditions, new equipment such as a white tea withering room and a variable frequency continuous wither with controllable temperature and humidity have been developed to provide white tea with factory processing, quality stability and controllability. Technical Support.
New yellow tea products and new processing equipment

  In order to obtain new yellow tea products with special flavors, a series of varieties with low chlorophyll content and low phenol-ammonia ratio, such as Jianbo Huang and Sichuan tea series, were selected to process yellow tea. Steam sterilization is widely used because of continuous heating, short sterilization time and relatively closed environment, which can meet the technical requirements of "more stuffy and less throwing" of yellow tea processing, and promote chlorophyll wet heat degradation. Yellow tea companies such as Luyuan Tea and Mengding Huangya have successively proposed mechanized processing technologies.


Ⅲ、Problems in tea processing at this stage

  Generally speaking, since the reform and opening up, China's tea processing technology has developed rapidly at multiple levels and in various directions, and has gradually realized clean and mechanized processing, and gradually developed towards continuous and automated operations. However, due to constraints such as a thin foundation and low scale, tea processing still faces many problems such as labor shortages, high energy consumption in operations, continuous increase in production costs, relatively late development of characteristic new products, and unstable quality and safety levels.
  In addition, China 's tea processing still has a large gap with other tea producing countries, especially Japan and India. For example, Japan 's steamed green tea production line has a high level of automation and cleanliness. It can process 5 tons of fresh leaves per day, and only 2 people operating. China's tea processing production line is poor in integrity, with low standardization and automation, which affects the stability of the product; the ability to mine, collect and analyze key parameters of the tea production process is insufficient, and the intelligent and targeted control of processing technology is still lacking, In terms of automation and cleaning, there is still a large gap with black tea producing countries such as India and Kenya; research progress in different fields is different. Although some new technologies and new products have been successfully developed, they are still in a small trial stage, leaving large-scale industries. There is still a certain distance from the application of chemical.

Ⅳ、Research directions for future tea processing
  Looking at the development of tea processing and tea consumption in recent years, the development direction of China's tea processing research in the future is the improvement of traditional tea quality, processing technology and production efficiency, and the development of new tea products with high added value and versatility The research focus should be on the following aspects:
  First, tea products tend to be high-quality, diversified, and convenient. Relying on technological innovation, tea products are diversified to better meet consumer needs, and process innovation is used to produce unique new features such as color, aroma, flavor, and shape. Products such as floral tea, fruit tea, milk tea, and various functional teas.
  Second, the processing entities present different development models based on their own characteristics. Among them, the processing of mass tea products will change from small workshops and small factories to large-scale, mechanized, and quality-controlled directions, and more emphasis will be placed on winning with stable output and quality. Niche tea products are developing towards diversification and specialization, and are targeted to produce tea products.
  Third, tea production tends to be standardized, labor-saving, and low-carbon. It is gradually moving towards directional, informatization, and automation operations. The production process can realize remote / terminal expert decision-making of real-time detection of field data, and form information-based and intelligent production management To achieve unmanned operation in the workshop.
  Fourth, discipline integration, basic research, and applied research collaboration will be closer. Through close cooperation across disciplines and multiple levels, joint innovations in basic research, applied basic research, and applied technology research will be conducted to gradually propose typical flavor quality Oriented control technology to gradually realize the intelligent evaluation of electronic products for tea products.

---